James meets interested clients on site to discuss the project in detail, including the boundaries of a drawing and other significant features that he could include in his sketches. For large estates a decision may be taken at this stage to work from aerial photographs rather than covering the ground on foot. He then provides a written quote for the agreed work based on an hourly rate and expenses. If a quote is accepted a deposit of 20% is required before James starts work.
The drawings are then produced in a four-stage process

A pencil sketch is made on an OS base plan with individual trees and shrubs drawn and annotated together with interesting landscape features. The level of detail is dependent on the size of the area being drawn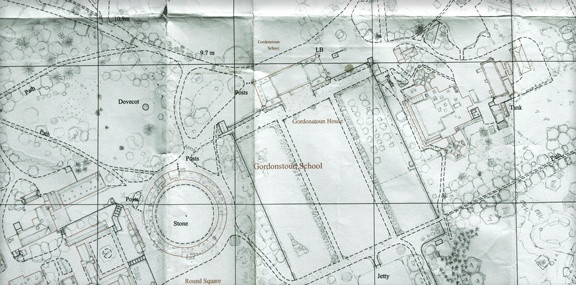 A black ink copy is made by overlaying the pencil sketch with tracing paper and ink drawings are added of the buildings and interesting features or views and where applicable a family crest.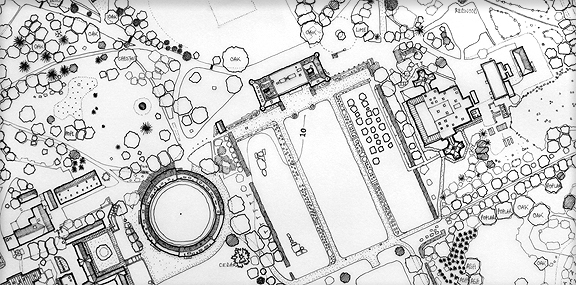 The black ink tracing is photocopied onto plain paper and coloured using Winsor & Newton Promarker rendering pens. Colouring indicates different terrain such as mown and long grass, herbaceous borders and tree canopy. Copper coloured trees and shrubs and water features are coloured accordingly.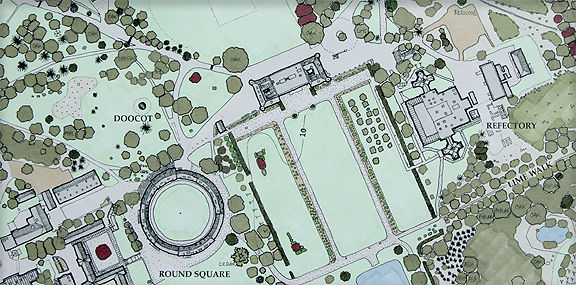 During the final stage, the coloured drawing is scanned and printed on a choice of media using UV resistant inks to enable longevity of display in daylight. The size of the finished product is A0 (841 x 1189mm).
I work on projects of varying scales and complexity. Please view my selected projects to see the final result of this process